Discover more
Catch up on our latest news
ICE International in Quote magazine
Founding Father Frits Janssen started selling hand-knotted carpets 50 years ago.
Today, his sons Marc (49) and Rogier (41) run the business under the name MARCJANSSEN. This proved to be a smart move, as the hotel industry gave them an opportunity to expand internationally, with offices in Dubai, Paris and New York.
The Collective Feeling-
Rogier: "Our father used to talk about 'our' company at the kitchen table".
Marc: "As a boy, he sometimes took me on a procurement trip. Then he'd ask, 'What do you think of this design, should we buy it or not?' Maybe it was my naivety, but it always felt like he was listening then too".
Making a name-
Marc: "Because I am eight years older than Rogier, I was the first to join the company, which was then called FM Janssen and only sold carpets in the Netherlands. It has always been my childhood dream to become successful abroad, and preferably in America".
Rogier: "I had just joined the company when he cautiously suggested to change the name to 'MARCJANSSEN'. Marc: "That is easier to pronounce for an American than Rogier".
Rogier: "I had just left my job at L'Oréal, where everything was about brand experience. I immediately said: Do it."
Turning point-
Marc: "We were at a fair in Dubai, when a man came up to us and said, 'Shouldn't you focus on hotels?' We had never thought about that. He turned out to be a successful interior designer at a leading international firm. Through him, we were able to attend a networking event in Las Vegas. I said to my father, 'We are far too busy here, is it sensible for me to go?' But he said: 'Go on, this is your dream - if it doesn't work out, at least you tried'. I went, and there we finally got our first prestigious, international assignment: three carpets in the royal suite of the Plaza Hotel in New York".
Rogier: "That's when the ball really started rolling".
Ooh-la-la-
Marc: "We now focus on the absolute top segment in four categories: hotels, private houses, palaces and super yachts".
Rogier: "I am concentrating on the last category. It's crazy because I get to see places that remain unreachable for most people. Last year we were hired to deliver a carpet for a 140-metre yacht, because we were the only ones who could produce a top quality outdoor carpet of 105 square metres. A delivery like that is exciting because the designer responsible for the project had been in the industry for a lifetime and seen it all, but he started whistling approvingly from a distance: 'Ooh-la-la!' You have to stay cool and collected then, but I actually had tears in my eyes."
The most important lesson-
Marc: "My most valuable possession is our father's watch, which I wear every day. He died five years ago". Rogier: "But what he taught us lives on. He always said: 'Make sure your customers are satisfied, then new ones will follow'. Still that is exactly how we work".
Marc: "A week before he passed away, he witnessed us opening an office in New York!"
Rogier: "And he was with us in Dubai, where he saw our carpets in the seven-star Burj Al Arab hotel. He was extremely proud".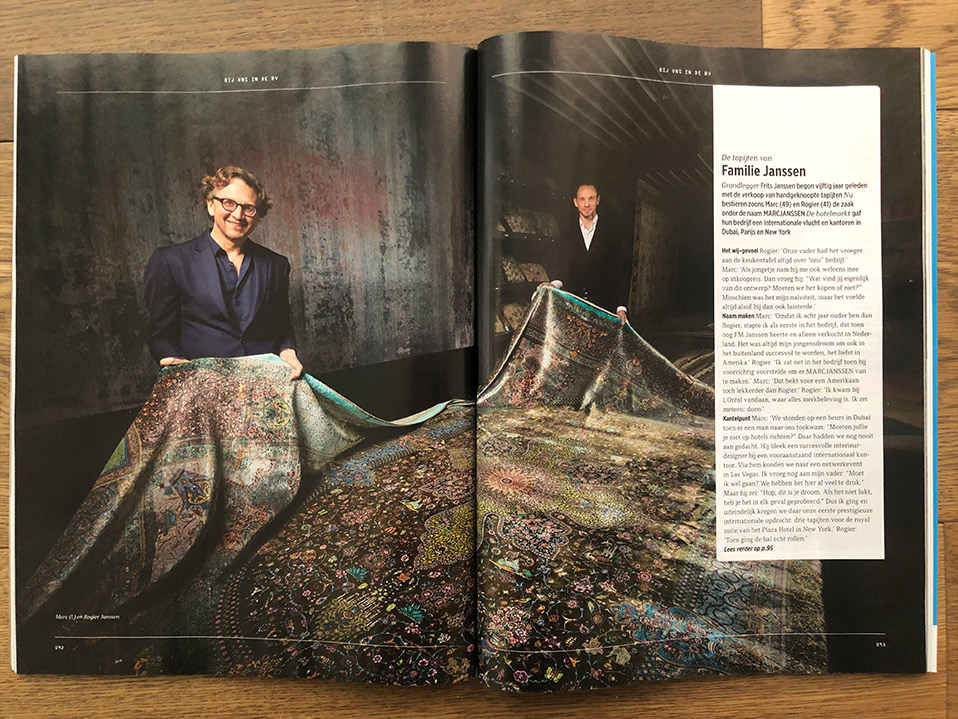 Email to Friend
Fill in the form below to send this news item to a friend: