Discover more
Catch up on our latest news
Maintenance
Knowledge of carpet maintenance
There is a big difference between carpet cleaning and maintaining carpet. Cleaning is the removal of apparent soil and many (commercial) carpet owners think that cleaning only takes place "as needed". Maintenance however is a planned and ongoing process of soil removal designed to retain carpet appearance at a good level every day. It means you need to prevent a buildup of soil. Therefore, it is crucial that a proper maintenance plan is in place. Of course, the frequency of cleaning the carpet is dependent on the areas within the building.

Proper Maintenance needs to be done in 5 steps, which will be further explained below:

• First step to soil prevention
• Daily preventative care:
- Routine vacuuming
- Choosing the right vacuum
- Routine spot and spill removal
• Interim Maintenance cleaning
• Deep cleaning
• Common custom hand-tufted rug/maintenance concerns
• Storage
Prevention of soiling
Soiling comes in many forms; the most common type of soiling is brought in with foot traffic. For this reason, ICE International always recommends the use of barrier matting. The purpose of barrier matting is to remove dirt from shoes before it comes into contact with the carpet. Barrier matting at high traffic areas can reduce soil up to 90%. High traffic areas are those areas where there is a constant flow of foot traffic; such as entrances, corridors and lobbies. These mats should be a minimum length of 12'0" (3.66M) to 15'0" (4.57M). This can be achieved by starting outside the entrances with aggressive scraper matting and continued inside the building with interior wiping matting. Barrier matting should be cleaned on a regular basis, in order to remove the buildup of soil and to maintain their efficiency of soil removal. All entrances to the building should be considered including underground parking with access to the lobby by stairs or lifts.


Daily preventative care
Vacuuming
The first step in preventative care for handmade carpets is regular vacuuming. Routine vacuuming will help in the removal of dry soil and dirt particles before they become imbedded into the pile of the carpet.

Choosing the right Vacuum Cleaner
Our rugs come in a variety of constructions and texture. For this reason, we recommend a canister type vacuum with a powder head. An upright vacuum may be used if you can adjust the height of the head. The head of the vacuum cleaner should be adjusted so that the beater bar or brush lightly touch the surface of the carpet. This is very important; a low beater bar brush may pull out the loops on a loop pile textured carpet or soft fibers such as silk and bamboo silk. It may also give the surface a fuzzy appearance. Do not use self-adjusting vacuums.

Rapid response to spills and stains
Wool is a naturally soil and stain-resistant fiber but still requires attention and care. Spills and stains should be dealt with as soon as possible. It will be easier to deal with a stain or spill while still wet. Clean spots and spills as soon as they happen or as soon as they are noticed. Use white paper towel or a clean absorbent cloth to blot out as much of the spill as possible. Next use a clean dampened towel, lukewarm water and continue blotting the soiled area. Do not over-wet the towel during this step. Rinse the towel clean and repeat blotting until the spill/stain is gone. Please do not rub, a rubbing motion may damage the fibers and spread the stain. Train your housekeeping department to be vigilant about stains and spills. The longer the spill or stain remain in contact with the fiber the tougher it will be to remove. If a stain was not noticed and is now dried into the rug, housekeeping should still tend to it using the dampened with water white towel technique. Remove as much as you can this way without over-wetting the rug. Any residual staining will have to be treated by a specialist with knowledge of cleaning chemicals.

Chemicals and Cleaning Agents
The composition of handmade carpets requires them to be cleaned with WoolSafe® certified products. Never use detergents such as dish washing liquid, soap or other cleaner formulated for general housekeeping. Although, they may initially remove dirt or spills they will almost certainly cause problems such as rapid re-soiling, color bleeding and bleaching or other damage to the pile fibers. Please take care that the solution being used carry's the WoolSafe® mark. A list of WoolSafe certified products and cleaning companies may be found on the WoolSafe® website www.woolsafe.org. Please engage a certified specialist to handle any chemical treatments.

*Please note cleaning of the surrounding hard floors should be done with care. Cleaning or polishing machines tend to use firm rotary brushes in conjunction with abrasive detergents and water. The rotary brushes on these machines can damage the edges/fiber of the carpet/rug; the soaps or detergents left behind may accelerate soiling and destabilize dyestuff. This is most relevant for onset rugs with ADA compliant edges due to the reduced thickness around the edges.


Interim maintenance
Interim maintenance refers to cleaning at a superficial level, which primarily involves three cleaning techniques: bonnet cleaning (strictly prohibited by ICE as it will destroy the surface pile appearance), dry foam shampooing, and absorbent powder cleaning. These techniques are designated for high traffic areas. For interim maintenance, ICE recommends absorbent powder cleaning and dry foam cleaning with crystallizing shampoo. Absorbent powder should not be applied to the carpet areas while it is wet. The usage of the absorbent powder should be applied strictly according to the manufacturer's instructions and by a trained certified professional.


Periodic maintenance (deep cleaning) performed by a certified professional
Periodic maintenance is intended to remove impacted soil. During the periodic maintenance, a soil lifter is used to vacuum the affected areas, breaking down the impacted soil and helping the following cleaning procedure to achieve a better result. Subsequently, wet cleaning operations are utilized to further cleanse the carpet. The two best known wet cleaning techniques are shampooing and hot water extraction. ICE recommends the use of hot water extraction for its carpets, as shampooing often entails the use of a rotary brush machine, which will cause distortion of the soil and a residue of shampoo is likely to be left in the carpet, causing rapid re-soiling if not completely removed. Again, it is imperative that WoolSafe® certified shampoos are used to ensure that dyes are not destabilized, and rapid re-soiling does not occur.

Professional Cleaning Services
There are many systems for carpet cleaning with a wide variety in effectiveness. The most important considerations for a cleaning system are:

• It must clean effectively
• It must not damage the carpet
• It must not leave excessive residues of cleaning materials
• It must be able to dry completely.

Therefore, the Interim and Periodic Maintenance should not be executed by the Housekeeping staff of the building. It takes skills and experience to maintain the carpets in a correct way. So, contact your local professional carpet cleaning company, preferably affiliated with the Carpet and Rug Institute (CRI) or Woolsafe Organization for advice. A list of certified professional cleaning companies may be found on The Institute of Inspection, Cleaning and Restoration (IICRC) and WoolSafe websites:

www.iicrc.org/page/IICRCGlobalLocator
www.woolsafe.org/find-a-carpet-cleaner/

Silk & Bamboo Silk
Silk and Bamboo Silk is a beautiful addition to carpet. These fibers require special care. If it becomes soiled, please contact an experienced professional to treat the carpet. Although these fibers are strong, they do not react well to an over saturation of liquids. They need to be dry treated or treated with dry cleaning agents strictly done by a professional.

Wool & Silk or Bamboo Silk Blends
Special care needs to be taken when cleaning combinations of wool and bamboo silk pile fibers since wool is dyed in acidic conditions while, bamboo silk is dyed in alkaline conditions. WoolSafe® products should be used and the pH of the pile should be left between 6.5 and 7.0 after cleaning. If necessary, a mild acid rinse should be used. This type of cleaning should only be undertaken by WoolSafe® or IICRC certified cleaning companies.

Professional Cleaning Services
The removal of many types of stains and the cleaning of delicate fibers may be beyond the expertise of most housekeeping staff. Professional help should be sought, and a list of approved cleaners can be found by at:

www.woolsafe.org/find-a-carpet-cleaner/
www.iicrc.org/page/IICRCGlobalLocator
Maintenance Schedule
Of course, the frequency of Maintenance highly depends on the degree of traffic within the building. High traffic areas like Entrances, Lobbies and Restaurants require more and more frequent maintenance and cleaning compared to Guestrooms or Suites. Naturally, the owner of the building can prepare his own schedule, but you can find a Guideline prepared by the CRI below: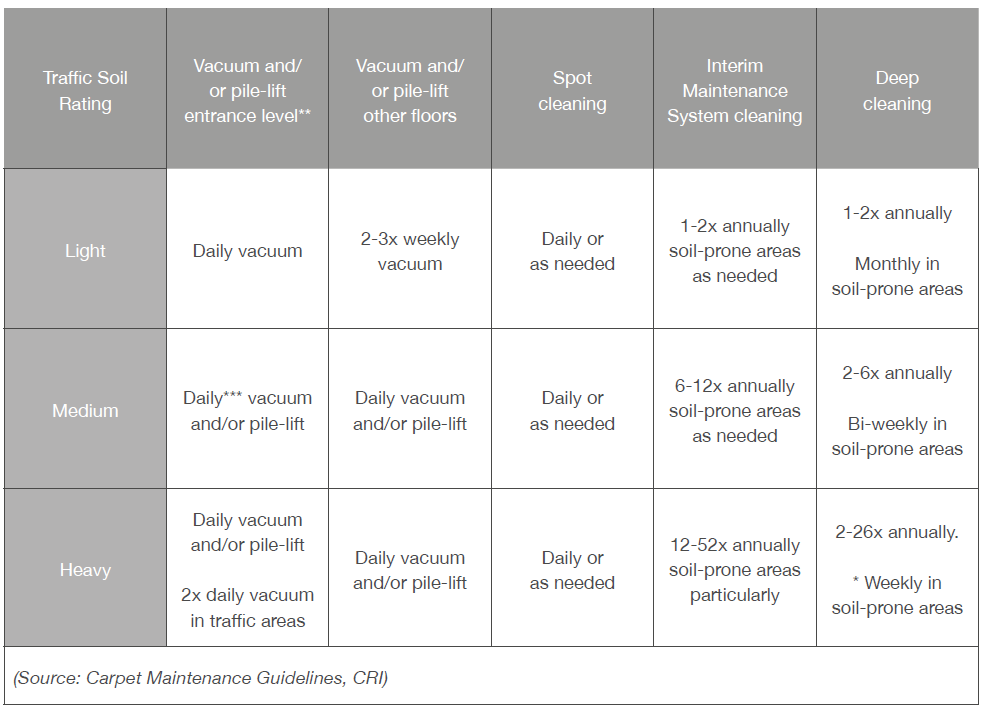 Common maintenance concerns
ICE provides customers with remedy tips for common maintenance concerns. Some of the following problems are at a light damage level and quick solutions usually suffice. For more severe problems, please contact a certified carpet cleaning professional.

Permanent Pile Reversal Shading / Watermarking
Permanent Pile Reversal Shading is a phenomenon that can appear in any cut pile carpet. Its occurrence is random, and its causes are largely unexplained. It is also commonly referred to as watermarking, pooling or puddling. A cut pile carpet that has 'shaded' will show areas lighter or darker than the surrounding carpet pile. This variation is caused by the reflection of light from pile tufts which come to lay in different directions Permanent Pile Reversal has been associated with cut pile carpet for many years, in fact well before the advent of machine-made carpets. Despite extensive research and development of methods and techniques to minimize the occurrence of shading, the characteristic is not predictable. As Permanent Pile Reversal Shading will have some impact on the appearance of a carpet, consumers should consider the possibility that it may occur when buying a cut pile carpet. It is not a manufacturing defect, therefore, not covered by our warranty. More information about watermarking and pile reversal can be found at The Carpet & Rug Institute https://carpet-rug.org/
Carpet discoloration
All of our rugs are dyed using dyestuff that achieve the appropriate ISO levels of colour fastness. However, heat and UV expose along with the incorrect choice of cleaning chemicals can all cause the color of rugs to fade and or change colour. Regular maintenance and cleaning is the first step to keep the carpet surface in good condition. To extend the life of your carpet, do not expose the carpet to extreme heat or UV radiation. In case of carpet discoloration, please seek timely advice from a certified carpet cleaning professional.

Burns
Burn damage can be remedied only by reweaving, retufting, or resectioning the damaged area. However, in some cases, the appearance of an area of charred carpet can be improved by carefully clipping off blackened ends of tufts using small, sharp scissors. Trim surrounding tufts to minimize indention.

Crushing
Crushing is the loss of pile thickness due to foot traffic. It is not a manufacturing defect.

Depressions
The weight of heavy pieces of furniture can result in indentions in the carpet. Use furniture glides or cups under the legs of heavy pieces, or, occasionally move your furniture a few inches backward or sideways so that the weight is not concentrated in one place, for a protracted period of time. If depressions do occur, apply water to the indentions with a spray bottle. Hold a hair dryer, set on medium, a few inches above the indention. As the spot is drying use your fingers to gently work the pile upright and in the opposite direction.

Fading or Color Loss
Protect carpet from direct sunlight to minimize fading or color loss. Fading can also be caused by emissions from heating fuels or solutions, pesticides, household cleaning agents, and other household items.

Filtration Soiling
Filtration soiling may appear as dark or grayish lines on carpet along walls, stairways, around vents, and under doors. It is caused by airflow over and through the carpet that allows fine, airborne soils to settle on the carpet surface. This type of soiling, while sometimes permanent, requires special treatments for effective removal. Contact a carpet cleaning professional for assistance. We highly recommend carefully sealing any gaps between the floor and the walls before installation to prevent soiling at the perimeter of rooms by air borne soil particles.

Fluffing or Shedding
The balls of fluff found on carpet or in the vacuum cleaner bag, are merely loose bits pieces of fiber left in the carpet from the manufacturing process. The removal of loose fibers does not affect the carpet life or quality. By using a quality vacuum cleaner, most shedding gradually disappears within the first year after installation.

Matting
Matting, the untwisting of the fiber and intermingling of the yarn tips, is usually the result of concentrated foot traffic and/or inadequate maintenance. Other factors, including improperly specified cushion or cushion failure, can also be the cause. Matting is not considered a manufacturing defect.

Soiling
The secret to maintaining the beauty of your carpet is to vacuum often and clean it regularly before it becomes excessively soiled. Dulling is caused by the deposits of all types of soil that abrade the carpet's fibers. Still, the original color is not lost, but is present under the soil film. If the soil is allowed to remain, the carpet is much more difficult to clean. Frequent cleanings are important to avoid excessive and permanent soiling.

Sprouting
Occasionally, it is possible for a yarn tuft to rise above the surface. This is not a carpet defect but rather a characteristic of a custom handmade rug/carpet. Sprouting tends to be more common on loop pile construction carpet. DO NOT pull it out, but carefully cut the protruding yarn below the surface with small or cuticle scissors.

Static
The static electricity generated by some carpets is aggravated by low humidity. That is why it is most bothersome in colder weather when the relative humidity is low. The use of a humidifier can help, by reducing the buildup of static and reducing annoying shocks. Be cautious about using topical post manufacturing anti-static treatments on carpets, as some can cause the carpet to soil very readily.

Storage
In case rugs and carpets need to be stored, make sure all pieces are rolled straight and tight. Store rugs and carpets in a climate-controlled space on racks and turning them 90 degrees every 30 days to prevent crush marks. Our rolls should not be stored on the floor or in pyramids which will result in pile crushing or pressure marks. This is most important with rugs that contain delicate fibers such as silk or bamboo silk. Please consult us if you plan to store rugs/carpet for more than 3 weeks.